O imprimantă 3D cu rășină creează detalii de neatins comparativ cu imprimantele 3D FDM. Cu toate acestea, se știe că post-procesarea modelelor finite poate fi destul de obositoare. Exact pentru a rezolva această problemă, Crealitly aduce acum pe piață soluția UW-01 Wash & Curing!
Spălare (modele curate)
Pur și simplu așezați modelul finit în recipientul furnizat, umplut cu agent de curățare (de exemplu, curățator de rășină) și începeți procesul de spălare convenabil.
Pentru clienții care au o imprimantă LD-002R / LD-002H există o caracteristică suplimentară! Platforma poate fi îndepărtată direct de pe LD-002R / LD-002H și așezată pe mașina Wash & Cure pentru a evita contactul cu rășina necurată în cel mai bun mod posibil. În plus, înălțimea suportului este reglabilă, astfel încât recipientul să nu fie complet umplut.
După procesul de curățare, puteți închide recipientul și păstrați-l pentru următoarea spălare.
UW-01 are un recipient de spălat foarte mare cu care puteți curăța și modele mai mari.
Cure (post-vindecare)
După procesul de spălare, produsul poate fi trecut la întărirea UV. Cu numeroase lumini UV cu lungime de undă de 385nm și 405nm, puteți vindeca modelul finit rapid și ușor!
O platformă rotativă asigură un tratament UV 360 ° astfel încât opera de artă să fie vindecată din toate unghiurile.
Ușor de utilizat și de securitate
Operarea foarte simplă este posibilă prin intermediul unui buton tactil. Acest lucru vă permite să comutați cu ușurință între modul de spălare și cura. Opțional, puteți seta, de asemenea, timpul și viteza, cât timp și cât de repede ar trebui să se spele sau să vindece mașina.
Capacul special filtrează lumina UV și previne posibilele deteriorări ale luminii UV. De asemenea, produsul este echipat cu o funcție de siguranță care oprește automat luminile UV atunci când scoateți capacul.
Specificații
Dimensiunea maximă a modelului pentru spălare: 170 x 120 x 160 mm
Dimensiunea maximă a modelului pentru întărire: Ø 165 x 200 mm
Features:
Dual-band UV light source
Magnetic 360° rotatable platform
Large-size washing container
Adjustable three-gear speed
2-90min optional
HD touch button
Adjustable three-gear speed and 2-90min optional
With a three-gear speed mode, it includes washing and curing; The washing and curing time has 2-90min optional. Delicate models come from the curing and washing.
Strong wash mode:
1, Flexible wash method: The model can be washed separately in the washing basket or together with bottom plates.
2, Large size sealed washing container: the UW-01 Washing and Curing Machine supports larger size models for cleaning; With a sealed container and lid, it avoids cleaning solution volatilization and also stores the cleaning solution for the repeated use.
3, Self-adjustable bracket: The water level to wash the model depends on the washing container size and model size.
Cure mode: 
1, Double-row, and Double band UV lamp beads: With built-in LED beads(18 pieces of UV LED lights), the UW-01 Washing and Curing Machine is compatible with most resin printers; The double row 9-bead design with a higher irradiated area realizes quick curing and even irradiation for the larger model.
2, 360° specular reflections curing rotating platform: 360° curing tray with magnetic force and reflective mirror make full use of the light source, which cures the model all the angles.
3, Remove the machine core, stop working automatically: Once the machine cover is removed during the curing process, the UW-01 Washing and Curing Machine will immediately suspend the curing, which avoids light source glare and reduces light pollution.
Product Parameters
Model: UW-01
Machine: Washing and Curing Machine
Control method: Touch button, LED indicator
Rated power: 96W
Input voltage: 24V
Curing and washing time: 2-90min
Washing size: 170(L)x 120(W)x 160(H)mm
Air-drying and curing size: 225x225x370mm
Package size: 298x297x505mm
Machine weight: 6.5KG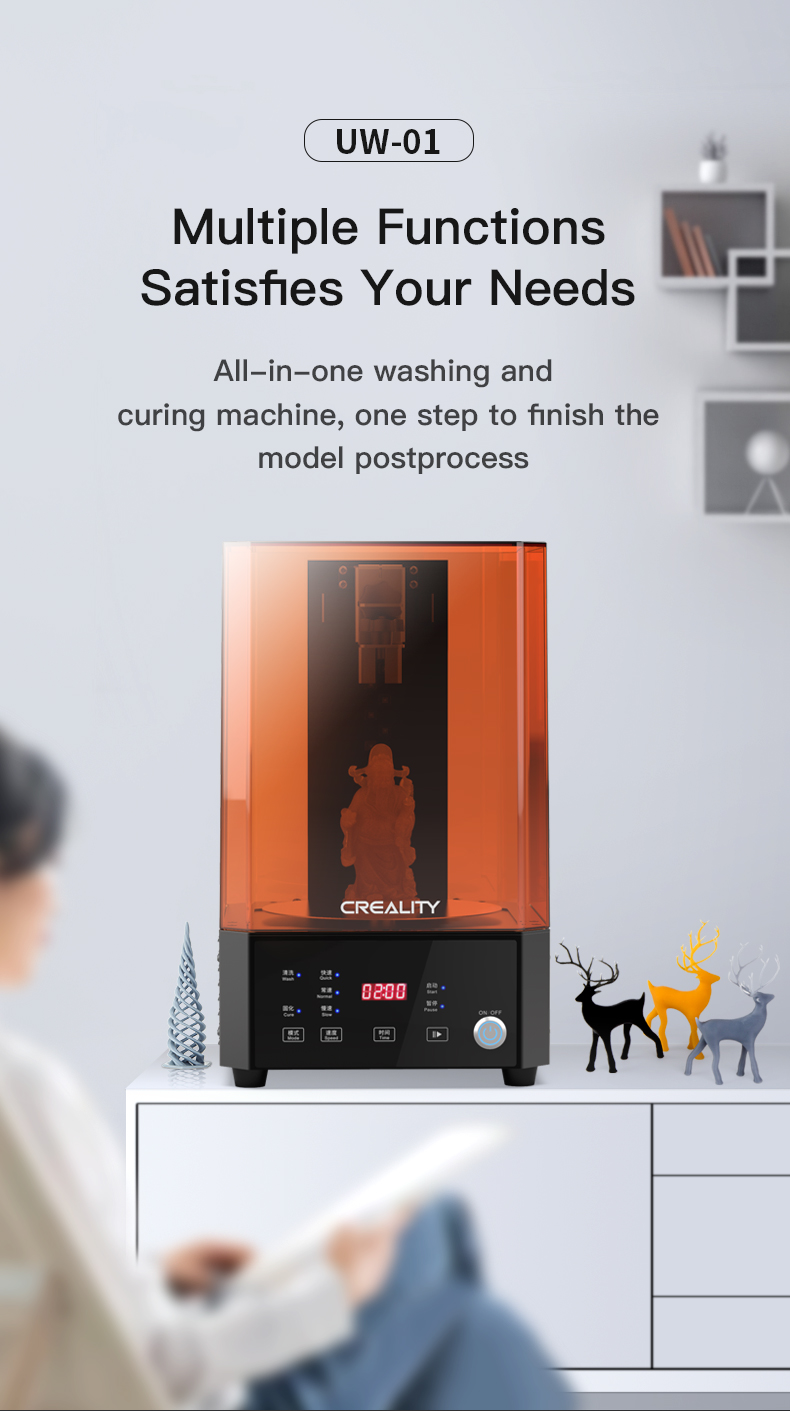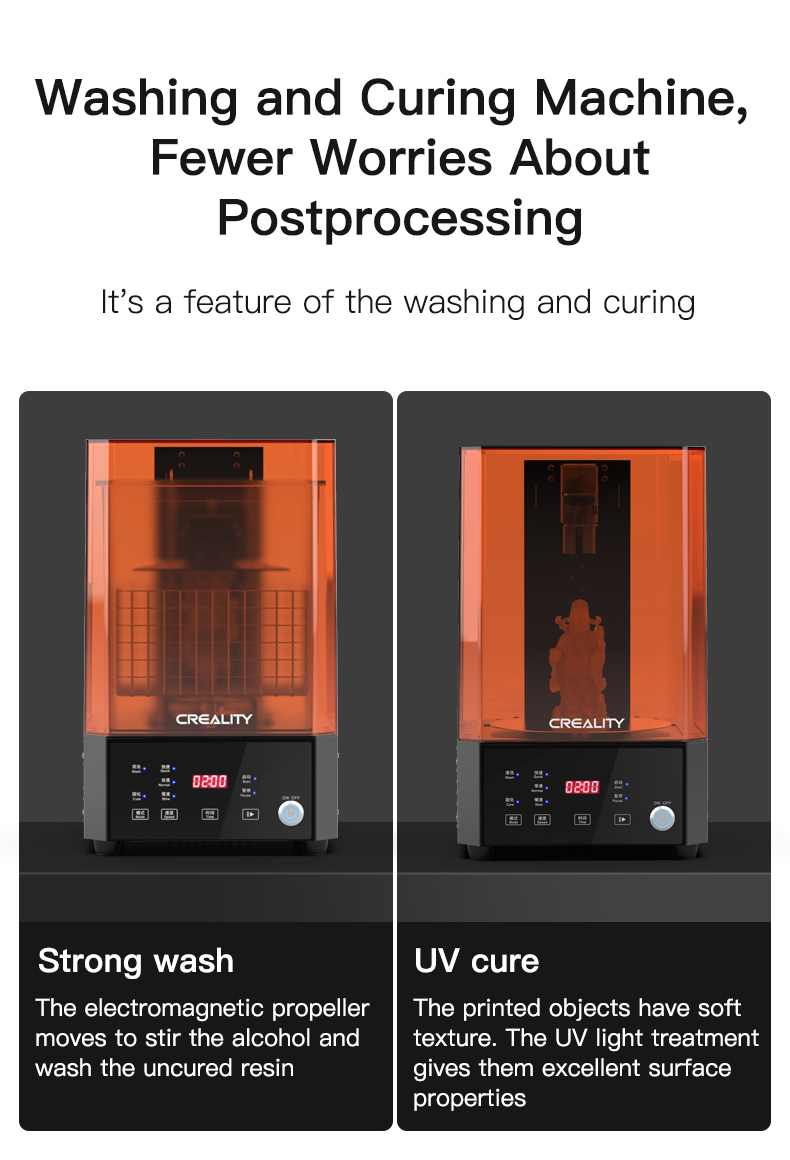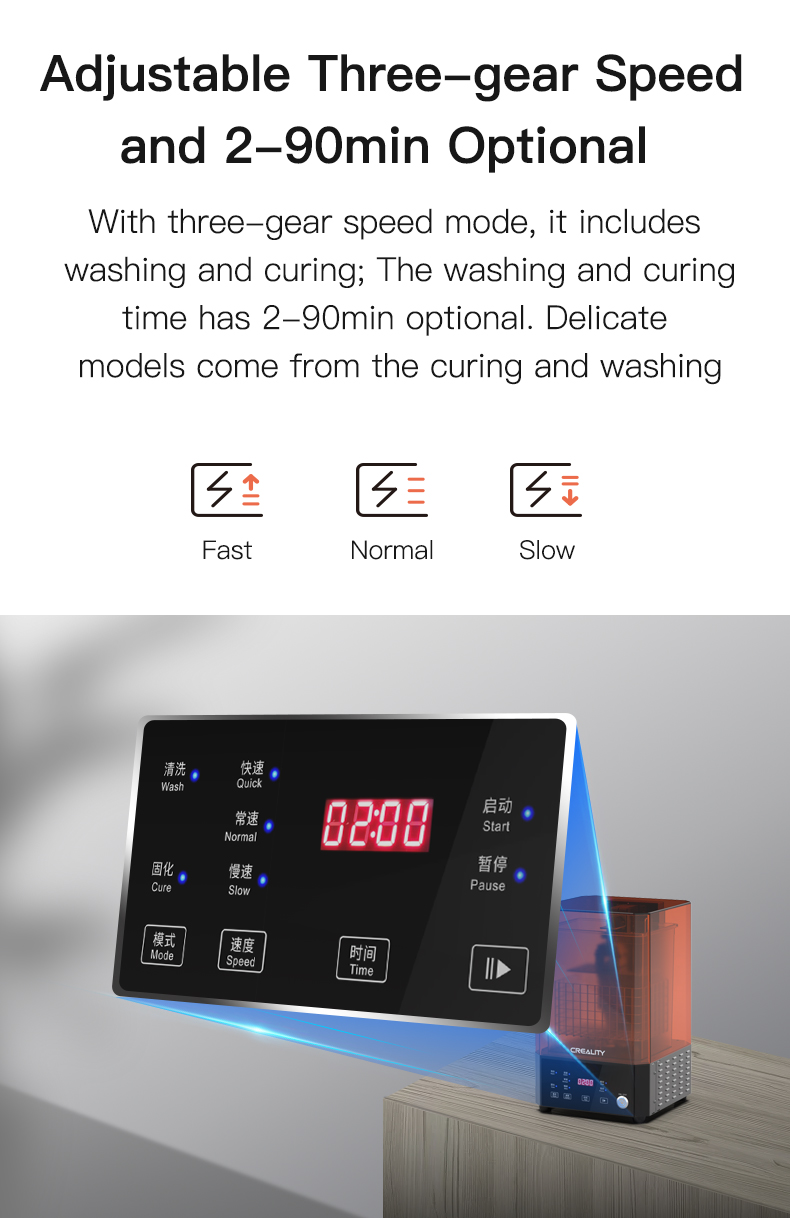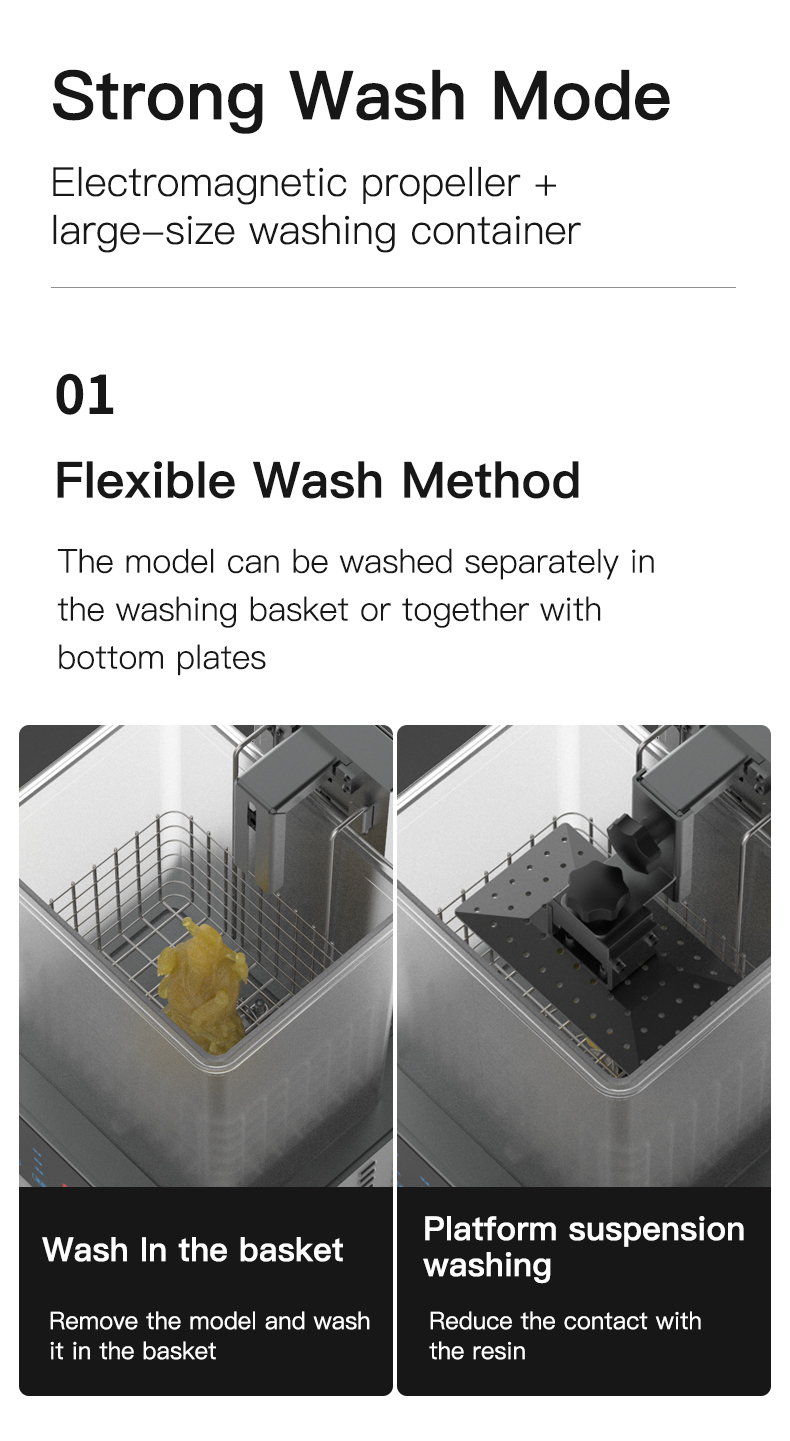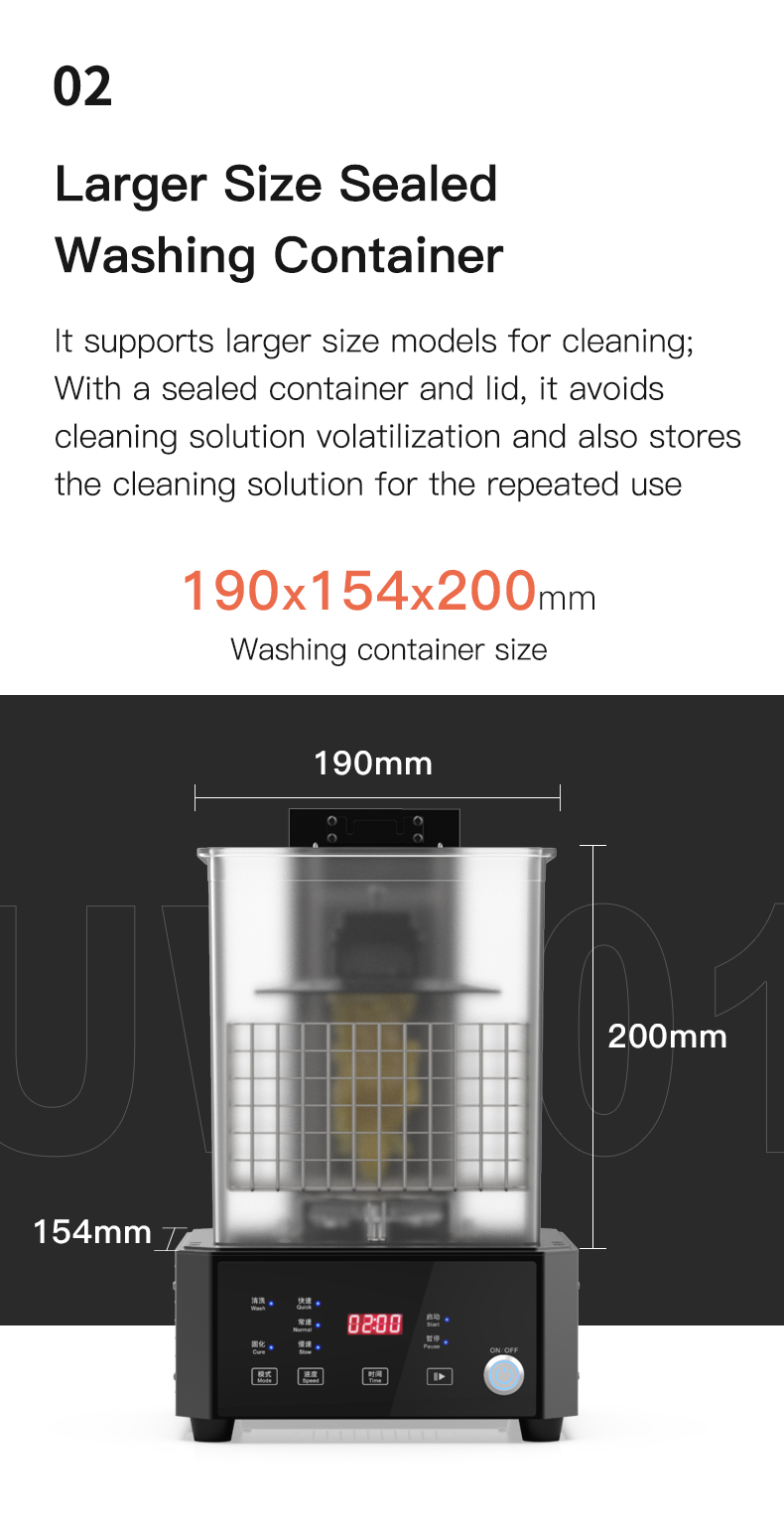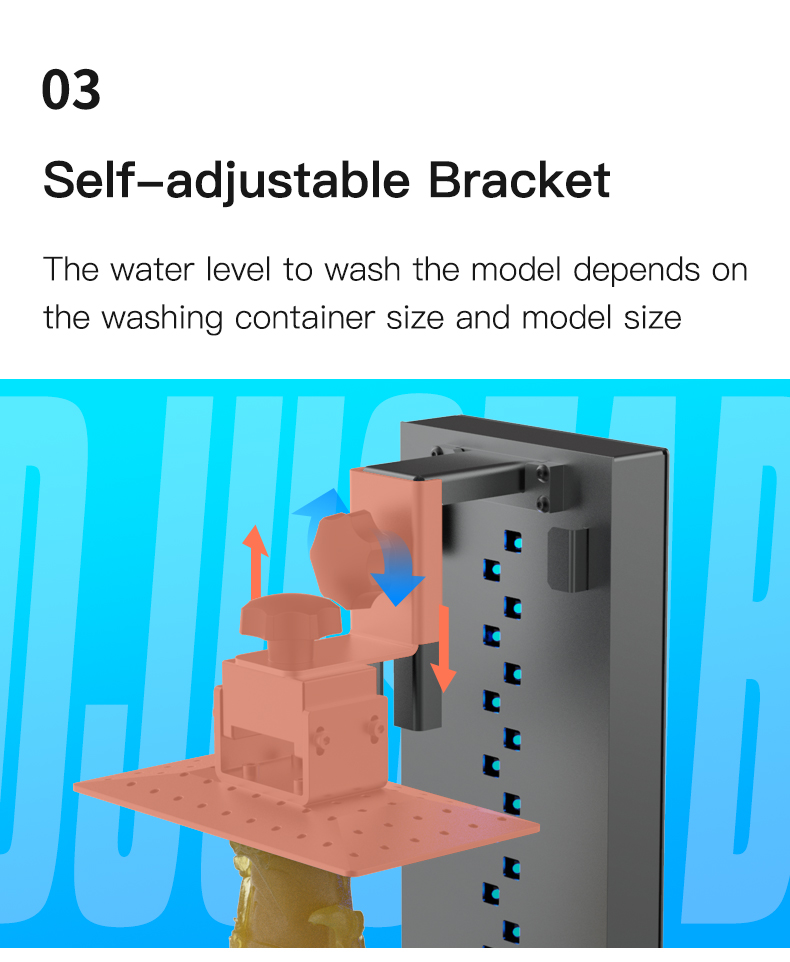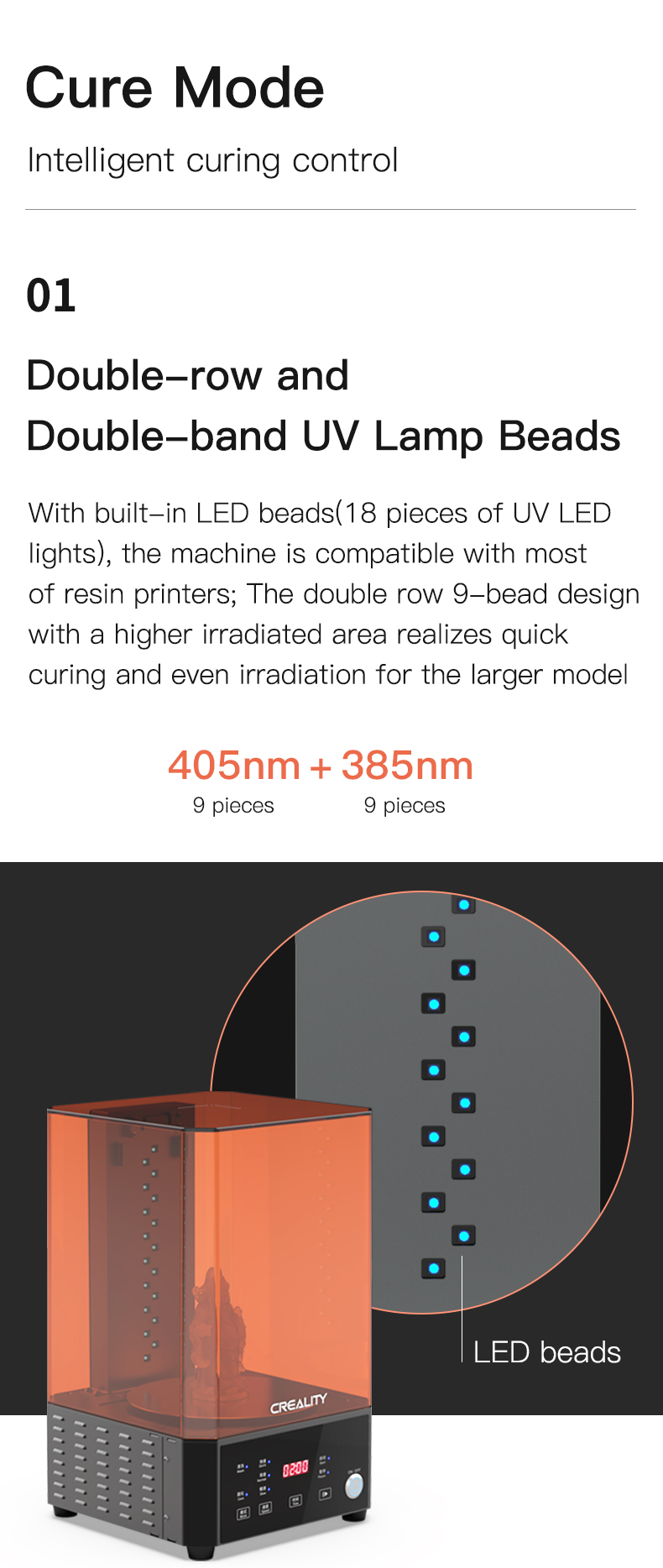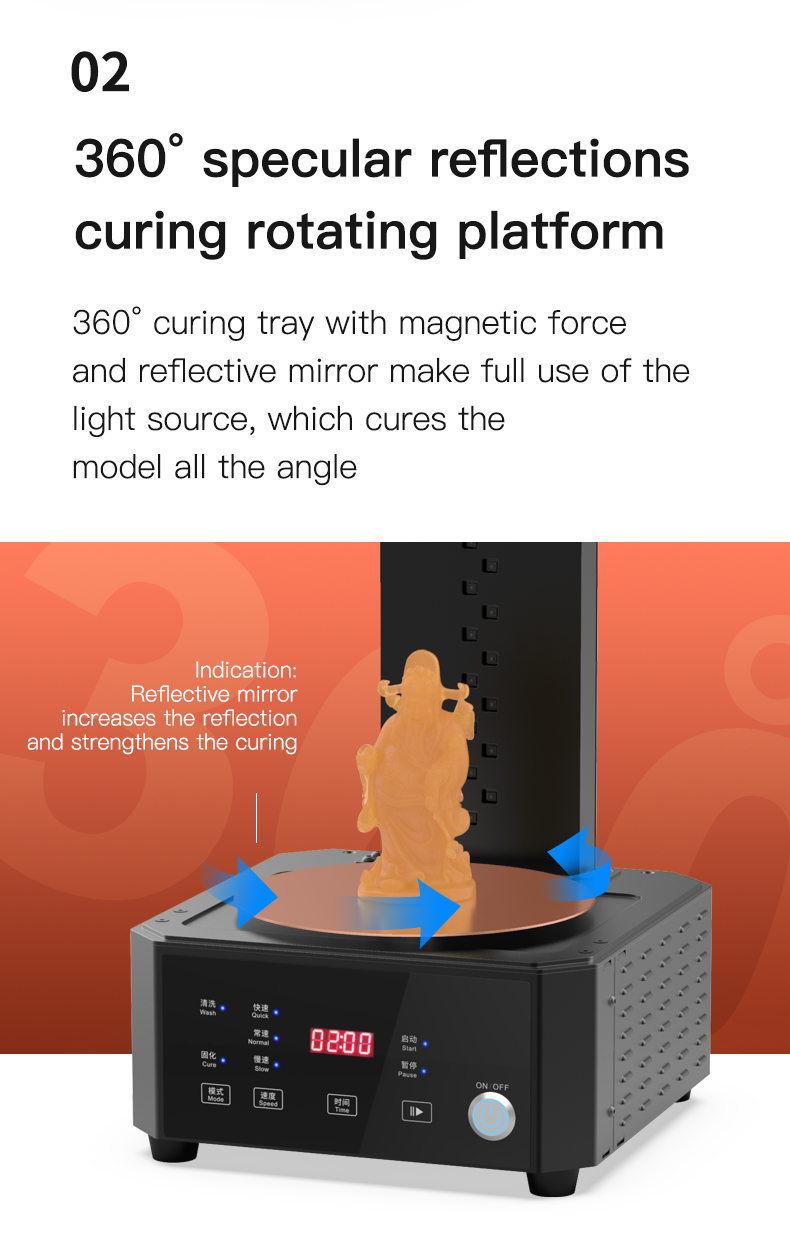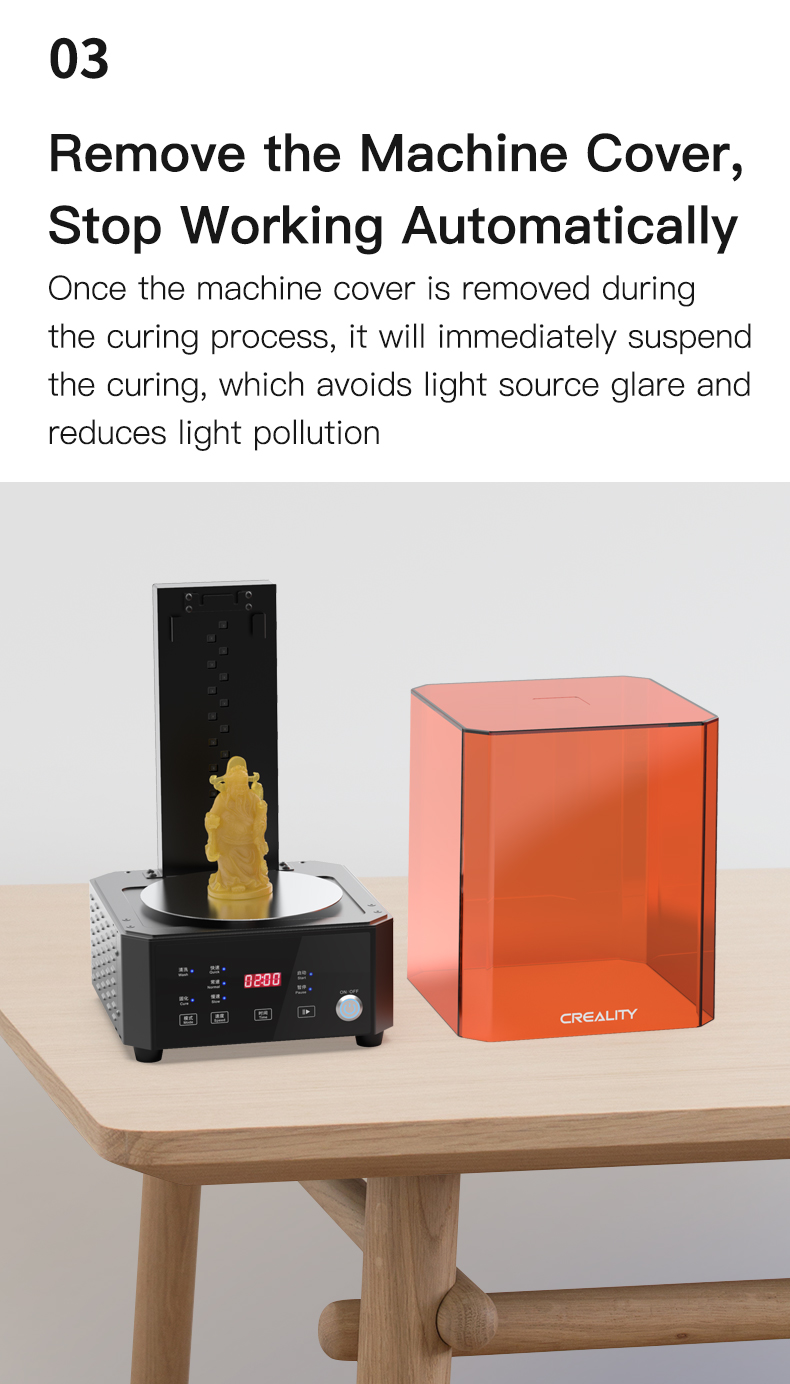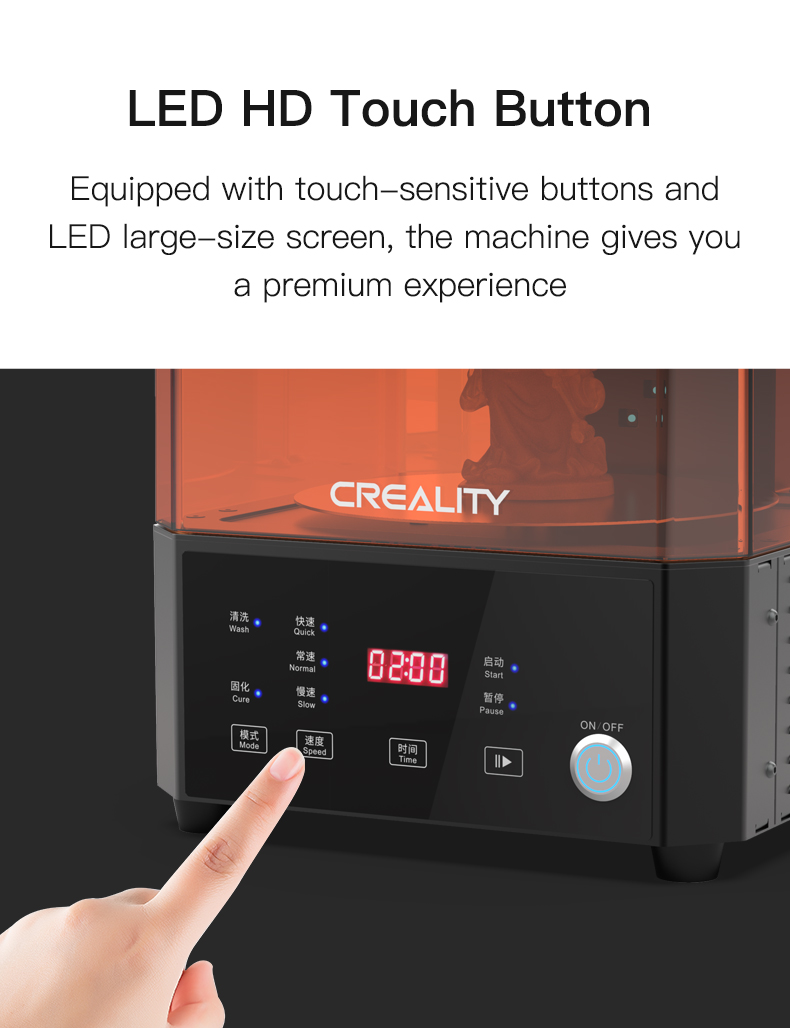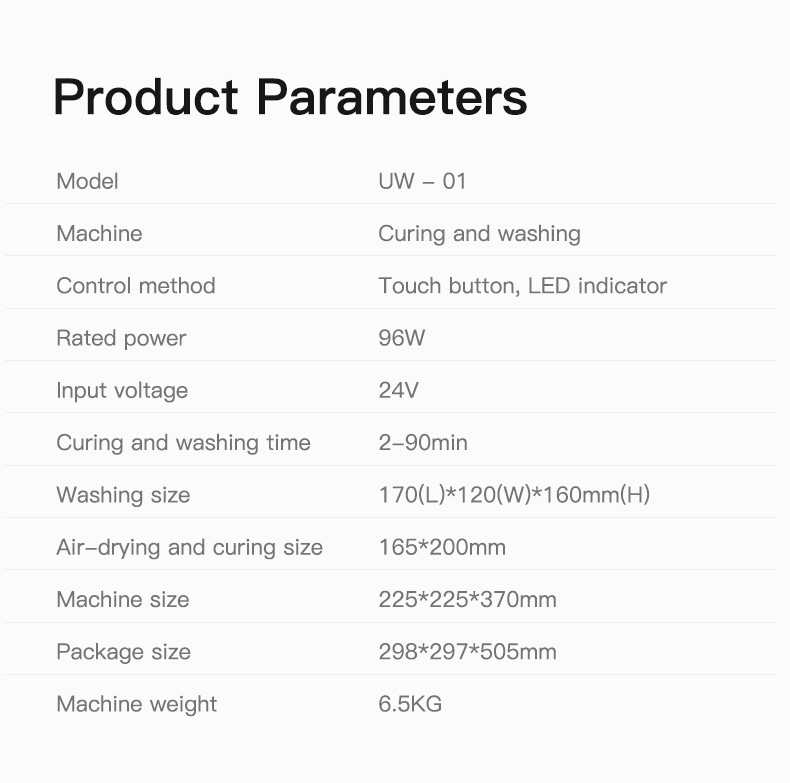 QUESTIONS ABOUT THE PRODUCT?